Al Perkins' musical accomplishments are legendary — Three Grammy's, inducted into the Texas Steel Guitar Hall of Fame and onto Opryland's Starwalk. He was a pioneer in rock and country music. He introduced a rock 'n roll sensibility into country music and vice versa. For that, The Gibson guitar company recognized him as "the world's most influential dobro player. " In his honor, they began producing an "Al Perkins Signature" Dobro in 2001, designed to his specifications.
Al has played with many greats in rock, folk, and country—Dolly Parton, Emmylou Harris, James Taylor, Bob Dylan, Tori Amos, Garth Brooks, Dwight Yoakam, Dan Fogelberg, Joe Walsh, John Prine, Mike Love, Patty Loveless, Cher, Rita Coolidge, Iris DeMent, Michael Martin Murphey, Keith Richards, and the list goes on. He credits his "discovery" to Mickey Jones and Kenny Rogers while in the First Edition.
He also was a member of legendary bands with legendary members, including Stephen Stills and Chris Hillman in Manassas, Shiloh with Don Henley, The Flying Burrito Brothers formed by Gram Parsons, Chris Hillman, and Michael Clarke, and with Hillman, Richie Furay and J.D. Souther in the Souther–Hillman–Furay Band.
While Al is widely acclaimed in musical circles for his guitar virtuosity, he is less well known as a lifelong Bible-believing Christian who has been instrumental in leading many of his bandmates to the Lord, including Richie Furay and Chris Hillman.
Al reflects on his musical journey here in an interview with Zac Child in Truetone Lounge here:
A 'Pied-Piper' for Christ among musicians
I first learned about Al's evangelizing influence in musical circles through Chris Hillman. He described Al as a "'Pied Piper' for Christ, who's led many of us in music to the Lord."
One of his notable converts was Richie Furay, who was inducted into the Rock and Roll Hall of Fame in 1997 with Buffalo Springfield. When Chris wanted Al to join the Souther-Hillman-Furay Band as lead guitarist, Richie pushed back, turned off by the Christian emblem on Al's guitar.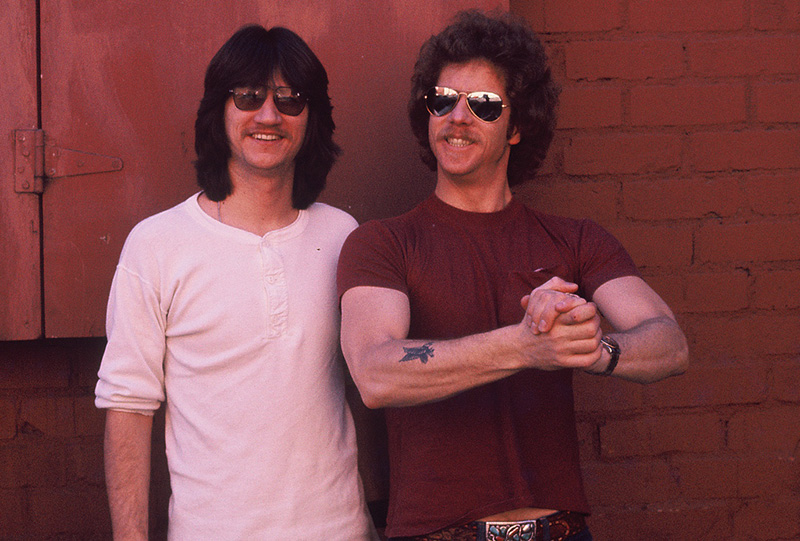 "I was attending Calvary Chapel down in Costa Mesa at the time and saw this sticker that said 'Jesus is Lord,' and a lot of people at that time were putting stickers on their guitars anyway. That was the very thing that struck a chord with Richie. He didn't want to have me in the band," Al explains.
But Chris won out, thanks to Al's musical proficiency, and he came alongside Richie to gently turn him to Christ. He did even more than that. Richie became one of only two pastors in the Rock and Roll Hall of Fame. Al Green is the other.
"I decided I am going to do whatever the Lord offers and he gave me a chance to speak to Richie about the Lord. And long-story short, I shared some things with him and his wife Nancy, and the Lord opened his eyes. I'm so thankful for that. God can use anyone of us for anything."
Perhaps Al's most profound witness to his fellow bandmates was the quiet example he gave of what it means to live for Christ. "Being in the music business and traveling and all that, you find yourself alone a lot when other people are out partying. But it wasn't so hard for me to maintain what I believe is the correct lifestyle and to stay away from the things you know are inherently wrong. I give the credit to the Holy Spirit," he affirms.
And he adds that his silent witness bears fruit. "Richie says it wasn't anything I said necessarily, but it was how I led my life in a crazy rock-and-roll world."
And Al goes on to say, "You just never who's paying attention or when the Holy Spirit will open someone's ear, turn their head, or open their eyes. It takes a repentant heart and keeping Him first."
Al's love of the Lord started early
Al was blessed to grow up in a Bible-believing family, including a maternal grandmother who also was a prayer warrior. "I came to know the Lord at nine," he shares. "I'm so sad whenever people don't have that advantage," he says to me when I shared that I hadn't been so blessed.
The family's early influences also extended to music. "My father's mother passed away before he could finish grade school. With added responsibilities at home, my dad was unable to finish his education, but he loved music and learned to play guitar."
Growing up in the 50's in Texas with a truck-driving father, the family was getting by, but with little left over for luxuries. But they spared no expense developing Al's musical interest, starting him off with group Hawaiian steel guitar lessons that quickly morphed into solo lessons when his teacher recognized Al was improvising, playing by ear, and had natural God-given talent.
"After a class my teacher asked to speak to my father. I thought, here it comes, he will say how I wasn't following the lesson and playing the songs wrong because I didn't play the notes as written. But instead, he said if my parents could afford to give me private lessons he could teach me twice as fast. So that is what they did."
The financial sacrifices continued as Al became interested in a new sound of "pedal" steel guitar that he heard on weekly radio broadcasts in west Texas. "My dad was working driving trucks for Philips Petroleum Company and they put out $1,000 for my first pedal steel guitar. That was a lot of money in the 1950s."
And with the help of Al's teacher/mentor (Al Petty) and his growing musical proficiency, plus being one of the rare breed of skilled steel guitarists at that time, he started playing professionally at the age of 14.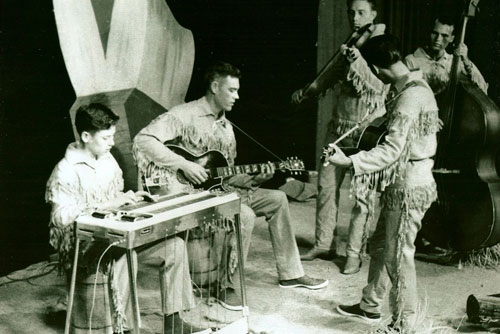 "To make more money my steel guitar teacher moved his growing family to California to play with the Smokey Rogers band. When I was 11 years old, he invited me to come out for a visit and put me on Smokey's TV show in San Diego. My parents graciously consented and allowed me to ride a Continental Trailways bus alone all the way to California."
Also with the help of his teacher, Al guested with famed country musician Bill Myrick, whose Pioneer Jamboree radio program contributed to the success of Roy Orbison, Buddy Holly, Patsy Cline, and Elvis Presley. He also gave "little" Al early opportunities to perform.
Al goes on to say, "That is an example of the amazing things that the Lord puts before you. God just opened the doors from then on."
Times of trials
"In their hearts humans plan their course, but the Lord establishes their steps," [Proverbs 16:9]
Throughout his life, Al has felt the hand of God leading him in the way that he should go. "God is always at work behind the scenes in your life," he shares. "At times He saves us from things, but at other times He allows us to make mistakes. He uses those mistakes to strengthen us, if we seek Him."
Two times in his life Al believes God intervened literally to spare his life. "One time was very evident and happened in a matter of seconds. The other was over a longer term where He spared me from combat in Vietnam," he says.
As for mistakes and times of trials, the pivotal one for Al came during his divorce in 1972. "I was traveling back and forth between Texas and California and fell out of good fellowship. I'd visit churches around Los Angeles, sit in the back and see how it felt, and if the Holy Spirit was there. I was so thirsty."
Al explains that he found such a church at Calvary Chapel in Costa Mesa, California. It was over 100 miles round trip from his home and he sometimes drove it twice on Sundays.
"Chuck Smith was a teacher and he came to the podium with a smile and left with a smile. They had a band with drums there, instead of an organ or piano that I grew up with. Chuck taught the scriptures so profoundly but in an understandable way. My spirit said this is just what I needed."
When we look back on these times of trials, Al says, "It all comes down to being in fellowship with Him and His Word!"
On-going struggles
In sharing with Al, his humility is one of the qualities that comes across most strongly. That's proof positive that he is successfully wrestling with the weaknesses that challenges him. The temptations of drugs and alcohol, that many in his musical circles succumbed to, didn't tempt him, but pride became an on-going battle.
"I didn't do some of the things on the road that others did. I stayed on my own, but that too can become a source of pride," he confesses. "Pride is just as dangerous as drugs, if not more so. So that was what I battled with to keep the right perspective."
Another potential source of pride is simply Al's musical virtuosity and that he can do things with a guitar that many others try for years to master but fail. "You pray people understand that it's God who gives our talents….such a blessing to see Him put it to work."
Al goes on to say, "Trying to do good works and do everything perfectly becomes problematic. It can lead to perfectionism where we think we have to control everything. The truth is we're not perfect, and certainly not in control!"
Al keeps running the race
"And what does the Lord require of you? To act justly and to love mercy and to walk humbly with your God." [Micah 6:8]
Setting a Godly example is Al's goal. He says, "Sometimes people are open to talking about Jesus, and at other times they're just not interested. As we all know, you don't always see immediate fruit. We never know by just mentioning the name of Jesus when it may flashback into that person's mind. It is the Holy Spirit that draws people…I'm just thankful that I can be used as a witness for Christ."
In closing, Al shares Micah 6:8 and the words of Jesus as recorded by Matthew 22:37, "Love the Lord your God with all your heart and with all your soul and with all your mind." It's such a simple thing really, it gets down to loving people and forgiving them as well."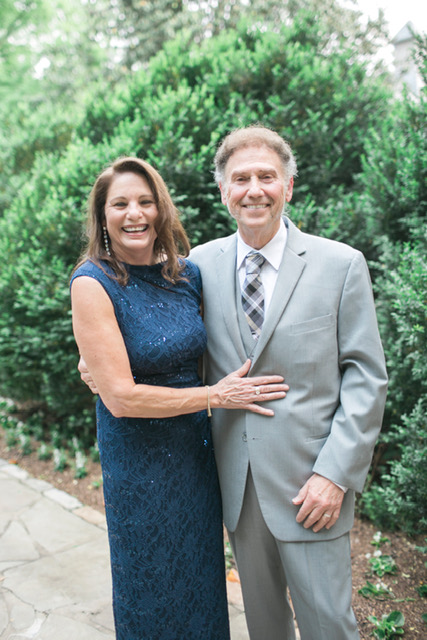 And he graciously thanks us – Faith Underground — for giving him the opportunity to speak about his faith and spread the Word further to those drawn to the music of our time and the musicians that brought it to life.
"I'm so thrilled that you are doing this. We needed someone to step up and be an intermediary between artists and others that are interested. Thank you for helping spread the Good News." – Al Perkins